About A&A Muscle Car Motor Sports of West Fargo, ND
OUR MISSION IS SIMPLE
Owned and operated by Matt & Mark Arnold, A&A Muscle Car Motorsports is located in West Fargo, North Dakota. We have over 40 years of building and restoring cars and motors. We specialize in vintage, classic, and muscle cars. Our cars come from all over the U.S. Some of the cars we purchase need major restoration and motor work, while others only require a tune-up before they can be re-sold.


Let us Help You...
Find your dream car
Build you a high-performance motor
Help you finish that project car that's been sitting in your garage for years!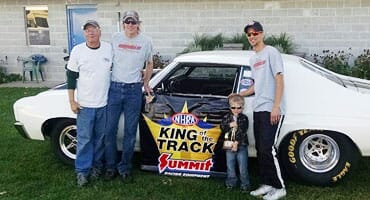 Let's be honest, we love Chevelles – and it started with Mark's first car – a 1970 Chevelle. Mark and his dad, Skip, built the motor back in the late '70s – and the need for speed was born. During high-school, Mark street-raced on the open county roads of North Dakota. Eventually, the car was turned into a street legal quarter mile drag car, and Mark and Skip spent the summers at the track. Forty years later, he still owns and races that same Chevelle that started it all.
Matt, Mark's son, was just 10 years old when he started racing a junior dragster. He's not a kid any more, and now races his own 1969 Chevelle, often competing against his dad and other race cars he's helped build. Matt is the driving force behind A&A Muscle Car Motorsports. It's his ability to find a great car, have it shipped to the shop, and get it ready to be sold.
The next generation is coming soon. Matt's son is in grade school, and loves going to the races with his dad, grandpa, and great-grandpa.
WHY CHOOSE US?
40+ years of experience building motors
30+ years of selling/restoring classic cars
Proven high-performance motor work
Winning culture
40+ years drag racing experience
We can find your dream car
Dedicated to our customers
Friendly service
Experience, experience, and more experience!